Wonder Women
25 Innovators, Inventors, and Trailblazers Who Changed History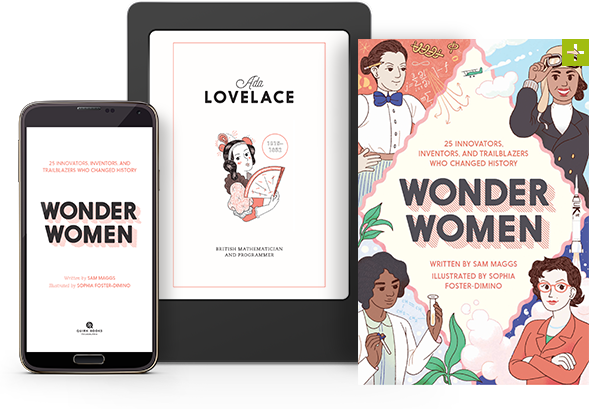 About the Book
A fun and feminist look at forgotten women in science, technology, and beyond, from the bestselling author of THE FANGIRL'S GUIDE TO THE GALAXY

You may think you know women's history pretty well. But have you ever heard of. . .

· Alice Ball, the chemist who developed an effective treatment for leprosy—only to have the credit taken by a man?
· Mary Sherman Morgan, the rocket scientist whose liquid fuel compounds blasted the first U.S. satellite into orbit?
· Huang Daopo, the inventor whose weaving technology revolutionized textile production in China—centuries before the cotton gin?

Smart women have always been able to achieve amazing things, even when the odds were stacked against them. In Wonder Women, author Sam Maggs tells the stories of the brilliant, brainy, and totally rad women in history who broke barriers as scientists, engineers, mathematicians, adventurers, and inventors. Plus, interviews with real-life women in STEM careers, an extensive bibliography, and a guide to women-centric science and technology organizations—all to show the many ways the geeky girls of today can help to build the future.

Table of Contents:
Women of Science
Women of Medicine
Women of Espionage
Women of Innovation
Women of Adventure
Looking for more? Visit our Zazzle store for related merchandise.
Praise
"Wonder Women isn't just filled with extraordinary tales of female scientists and inventors – though there are plenty of them – [Maggs] also includes sections on espionage and adventure, fields not traditionally associated with STEM." – Entertainment Weekly
"I admire Maggs for making Wonder Women both thorough and easy to digest. When it comes to historical material like this, presentation matters…Maggs writes the descriptions of the women and their achievements in such a way that you're inspired to take the ball and keep running."–Nerdist
About the Author
Sam Maggs
SAM MAGGS is an Assistant Writer at BioWare and the bestselling author of WONDER WOMEN and THE FANGIRL'S GUIDE TO THE GALAXY, both from Quirk Books. An authority on women in pop culture, Sam was named "Awesome Geek Feminist of the Year" by Women Write About Comics and has spoken on the topic for The New York Times, Vulture, NPR, the CBC, Space Channel, and more. Her first comic is forthcoming from IDW. Among others, Sam has also been published by Marie Claire, PC Gamer, The Guardian, and the National Post. Sometimes you might see her on TV and movie screens. She loves YA lit, Pacific Rim, Mass Effect, Carol Danvers, and Jeff Goldblum.