Nominated for the 2015 Edgar Award for Best Paperback Original
Critically acclaimed author Ben H. Winters delivers this explosive final installment in the Edgar Award winning Last Policeman series.
With the doomsday asteroid looming, Detective Hank Palace has found sanctuary in the woods of New England, secure in a well-stocked safe house with other onetime members of the Concord police force. But with time ticking away before the asteroid makes landfall, Hank's safety is only relative, and his only relative—his sister Nico—isn't safe. Soon, it's clear that there's more than one earth-shattering revelation on the horizon, and it's up to Hank to solve the puzzle before time runs out . . . for everyone.
Posted by impart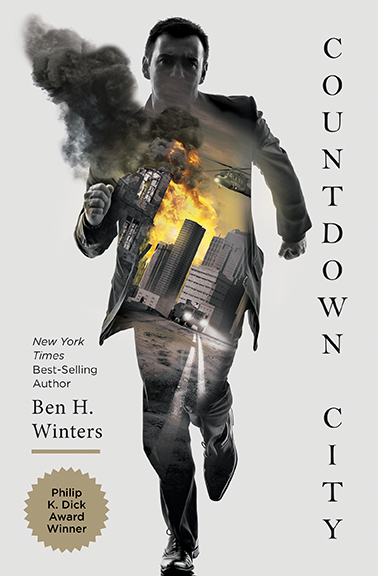 The Last Policeman received the 2013 Edgar Award for Best Paperback Original–along with plenty of glowing reviews.
Now Detective Hank Palace returns in Countdown City, the second volume of theLast Policeman trilogy. There are just 77 days before a deadly asteroid collides with Earth, and Detective Palace is out of a job. With the Concord police force operating under the auspices of the U.S. Justice Department, Hank's days of solving crimes are over…until a woman from his past begs for help finding her missing husband.
Brett Cavatone disappeared without a trace—an easy feat in a world with no phones, no cars, and no way to tell whether someone's gone "bucket list" or justgone. With society falling to shambles, Hank pieces together what few clues he can, on a search that leads him from a college-campus-turned-anarchist-encampment to a crumbling coastal landscape where anti-immigrant militia fend off "impact zone" refugees.
Countdown City presents another fascinating mystery set on brink of an apocalypse–and once again, Hank Palace confronts questions way beyond "whodunit." What do we as human beings owe to one another? And what does it mean to be civilized when civilization is collapsing all around you?

BEN H. WINTERS is a New York Times best-selling author and an Edgar Award winner. He lives in Indianapolis, Indiana
As Seen on Today with Hoda & Jenna
"A genre-defying blend of crime writing and science fiction." –Alexandra Alter, The New York Times
Winner of the 2013 Edgar® Award for Best Paperback Original!
What's the point in solving murders if we're all going to die soon, anyway?
Detective Hank Palace has faced this question ever since asteroid 2011GV1 hovered into view. There's no chance left. No hope. Just six precious months until impact.
The economy spirals downward while crops rot in the fields. Churches and synagogues are packed. People all over the world are walking off the job—but not Hank Palace. He's investigating a death by hanging in a city that sees a dozen suicides every week—except this one feels suspicious, and Palace is the only cop who cares.
The first in a trilogy, The Last Policeman offers a mystery set on the brink of an apocalypse. As Palace's investigation plays out under the shadow of 2011GV1, we're confronted by hard questions way beyond "whodunit." What basis does civilization rest upon? What is life worth? What would any of us do, what would we really do, if our days were numbered?
Posted by impart