Stranger Things 3 is sending us into a Netflix spiral that we'll happily never crawl out of – at least until we've finished the season. But what happens after this season's Demogorgon makes their final exit? How will we process the quintessential '80s teenage experience that Will, Dustin, Lucas, Mike, Max and Eleven suddenly find themselves in? With '80s pop culture, of course.
The Handmaid's Tale by Margaret Atwood
We're sure you've read The Handmaid's Tale and a number of other Margaret Atwood novels by now, but lazing in that Stranger Things hangover space with a reread of this dystopia is truly the best decision you could ever make. Read in the light of 2019, it feels less like a 1980s sci-fi and more like a near future nightmare. But when Atwood published it in 1985, The Handmaid's Tale purposefully only included events and circumstances that had already happened somewhere in the world. So it's both a time capsule and a cautionary tale.
Back to the Future
This movie has everything: time travel, '80s fashion, Star Wars references, and the sinking feeling that you might not exist because you got in the way of your parents meeting for the first time. It's not currently streaming anywhere, but don't let that small hiccup stop you from attending the Enchantment Under The Sea Dance. If you're looking for a fun alternative to the classic movie, pick up the picture book version of Back to the Future to share with your youngest fans or experience the film in iambic pentameter with William Shakespeare's Get Thee Back to the Future!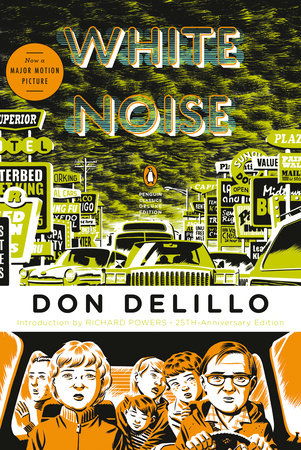 White Noise by Don Delillo
The airborne toxic event that permeates White Noise is so eerie and mysterious that we can't help but wonder if Don Delillo is an influence on the creators of Stranger Things. This 1985 novel about the dangers of the uninvestigated is as ominous as it is brilliant. It's the kind of book you read begrudgingly – because a friend of a friend recommended it. And before you know it, you're falling in love with Jack Gladney and his entire family.
Full House
Balance out that high stakes Stranger Things energy with the "You got it, dude" energy of Full House. (Which is streaming on Hulu in all its 1980s and '90s glory.) Sure, it's difficult to separate Aunt Becky from the college admissions scandal. And it's hard to think about Michelle without letting the whole Olsen family of designers and actors fill your mind. But Full House also has countless Beach Boys references and a pre-Funniest Home Videos Bob Saget. What's not to love?
The House on Mango Street by Sandra Cisneros
Sandra Cisneros creates such beauty and pain in The House on Mango Street – a teenage Latinx perspective that's missing from the Stranger Things universe. This coming of age novel, told from the perspective of Esperanza Cordero in a series of deeply felt vignettes, takes place in Chicago – just a few hours' drive from the teens of Hawkins, Indiana. And while nothing remotely sci-fi happens in The House on Mango Street, it's a must read novel for any and all Stranger Things fans.
Raiders of the Lost Ark
Is there anything more '80s than Indiana Jones? Raiders of the Lost Ark not only introduced the world to Professor Jones, it also brought us the highly specific, yet satisfyingly universal lament "Snakes. Why did it have to be snakes?" So, go ahead. Daydream about Harrison Ford at his finest as you binge Raiders and the entire rest of the series. You're already on Netflix for Stranger Things, after all.