Crafting with Cat Hair
Cute Handicrafts to Make with Your Cat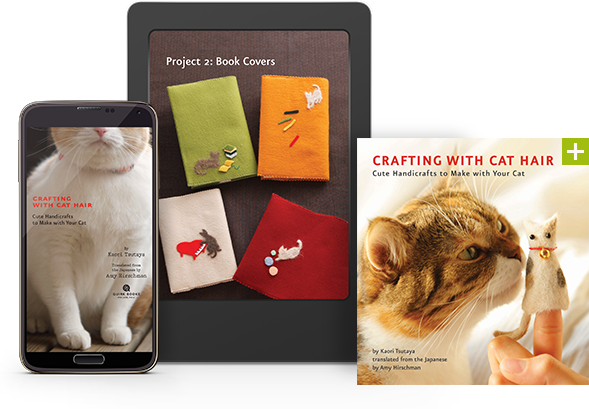 About the Book
Got fur balls?
Are your favorite sweaters covered with cat hair? Do you love to make quirky and one-of-a-kind crafting projects? If so, then it's time to throw away your lint roller and curl up with your kitty! Crafting with Cat Hair shows readers how to transform stray clumps of fur into soft and adorable handicrafts. From kitty tote bags and finger puppets to fluffy cat toys, picture frames, and more, these projects are cat-friendly, eco-friendly, and require no special equipment or training. You can make most of these projects in under an hour—with a little help, of course, from your feline friends!
Praise
"The year's most unconventional crafting book."—Associated Press
"This dandy little guide shows how to turn stray clumps of cat hair into soft and adorable handicrafts."—Tucson Citizen
"There's no other word for this book except: purrfect." —Los Angeles Times
About the Author
Amy Hirschman
Amy Hirschman is a translator and pop culture enthusiast (some might say she's one of those fabled "cool geek girls"). She grew up in the town where "Night of the Living Dead" has its origins, Pittsburgh, Pennsylvania. After receiving her B.A. in Japanese and Film from the University of Pittsburgh, she moved to Los Angeles, California and interned as a production assistant at Bang Zoom! Entertainment, an anime production studio.
Since then, she has been working in media and publishing and translating everything from advertising proposals to her first published project for Quirk in 2011, Crafting with Cat Hair.
Amy is not a cat owner herself, but her friends will attest she is the greatest cat-sitter they have ever had.
Kaori Tsutaya