Request an Advance of How to Win the War on Truth by Samuel C. Spitale!
---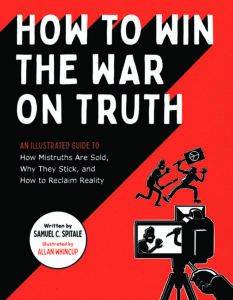 About the Book
Made to Stick by Chip Heath meets Thing Explainer by Randall Munroe in this illustrated guide to navigating today's post-truth landscape, filled with real-world examples of disinformation campaigns.
The average person receives 4,000 to 10,000 media messages a day.
It's no wonder we struggle to separate the news from the noise and fact from fiction–but in these unprecedented times, it's essential to democracy that we do. For anyone struggling to figure out how to live–and vote–their values, How to Win the War on Truth is here to help. You'll learn:
The history of propaganda, from Edward Bernays to Fox News
Why simple messages are so powerful
How social messaging creates unconscious biases
Who profits from propaganda
How propaganda is manufactured and delivered directly to you
Filled with real-world examples of disinformation campaigns that impact every citizen and clever illustration, How to Win the War on Truth will help you see the world with clear eyes for the first time.
About the Author
Samuel C. Spitale is a media studies expert who has written for Huffington Post, as well as Geek magazine and Advocate.com. Previously, he worked at Lucasfilm Ltd. in global product development. He is the author of Star Wars: Collecting a Galaxy.
Allan Whincup is a former art director who works as a freelance illustrator and designer. His projects include logo design, character design, storyboarding, and creating assets for animation. He has also worked on games, CD covers, and comics.
Product Details
Paperback ISBN: 9781683693086
e-Book ISBN: 9781683693093
Release Date: October 25, 2022