Beginning with The Sound of Music LIVE! a few years ago, TV networks have slowly but surely been working to bring stage musicals both classic and modern into our living rooms. The first couple productions were more miss than hit, but TV musicals finally seemed to hit their stride with 2015's Grease: Live and The Wiz Live! Soon, we will be getting a new version of The Rocky Horror Picture Show, followed not long after by Hairspray Live! And after that – we hope -- the sky's the limit.
While some musicals might not necessarily work on network TV, either due to the content of the show or the complexity of the staging, below are ten shows that would thrive in this format, along with suggestions for who the networks could tap to star in each one. Are you listening, TV executives?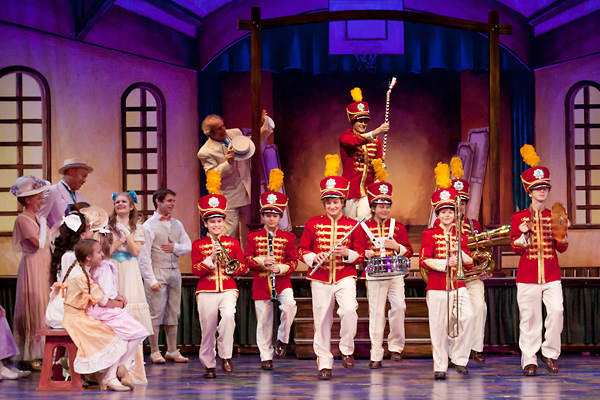 Starring: Neil Patrick Harris as Harold Hill, Renée Elise Goldsberry as Marian
It's unfortunate that NBC scrapped their 2015 plans to adapt The Music Man, the story of a charismatic charlatan who convinces the small town of River City that he can teach their children to play in a band, because Neil Patrick Harris seems like he was born to play Harold Hill. The Music Man calls back to the classic musicals that started the TV musical trend, and with a light, humorous premise, a few high-energy musical numbers, and the perfect actor in the title role, this show would be a guaranteed hit with parents and kids alike.
Starring: Anna Kendrick as Eliza Doolittle, Joseph Gordon-Levitt as Professor Henry Higgins
Another timeless classic, My Fair Lady uses relatively simple staging, which would make it a pretty easy show to film live, and with such a small cast, it might be easier to pull in some heavy hitters to play the two lead roles. A retelling of Pygmalion, My Fair Lady tells the story of a phoeneticist who bets a friend that he can teach a Cockney flower girl to speak and act like a high-born lady. To sell this show to a modern audience would require a bit more self-awareness from the characters, but with the right actors as Eliza and Henry, a TV production of My Fair Lady would be a delightful way to spend an evening.
Starring: Kristen Bell as Miss Adelaide, Mandy Moore as Sarah Brown, Zachary Levi as Sky Masterson, Justin Timberlake as Nathan Detroit, Leslie Odom Jr. as Nicely-Nicely Johnson, Matt Bomer as Benny Southstreet
The revival of Guys and Dolls took everything that was great about the original show, added a giant helping of pizazz, and served it all up on a brightly colored platter. Guys and Dolls is the story of a couple of charming gamblers, an ill-conceived bet, a fourteen-year engagement, a floating craps game, an earnest Evangelist who can't hold her liquor, a nightclub singer with a perpetual runny nose, and the most energetic prayer meeting anyone's ever attended. With the right talent attached, this witty, heartfelt show is sure to be a guaranteed crowd-pleaser.
Starring: Grant Gustin as Bobby Child, Phillipa Soo as Polly Baker, Miley Cyrus as Irene Roth
This show might be one of the most challenging on this list to pull off, but if it's done right, it would be amazing. The story of a dejected banker who tries to escape his humdrum life in the city by going to foreclose on a theatre in Deadrock, Nevada, only to then decide to try to save the theater instead, Crazy For You combines beloved songs from George and Ira Gershwin with a clever script and some truly amazing choreography. This show requires some significant tap dancing skills from its leading man and lady (can Phillipa Soo even tap dance? Who knows, but let's hope so), as well as almost its entire ensemble, which would mean a lot of unknown faces on stage, but if the performances are good enough, no one in the audience will care.
Starring: Mandy Patinkin as Tevye, Barbara Streisand as Golde, Josh Groban as Motel, Evan Rachel Wood as Hodel, Charlie Puth as Perchik
One of the most beloved musicals of all time, Fiddler on the Roof tells the story of Tevye, a Jewish milkman in early 20th century Russia, his wife Golde, and their five daughters, who are each approaching marriageable age. While this show boasts a large cast of characters, Tevye has to do most of the musical heavy lifting, with most of the supporting characters getting one or two songs at most, so it's important to get an actor with the singing skills and acting chops to really do that role justice. Mandy Patinkin would be the perfect choice to bring this moving and honest show to a new generation of viewers. 
Seven Brides for Seven Brothers
Starring: Chris Pine as Adam Pontipee, Emmy Rossum as Milly, most of the All-Stars from So You Think You Can Dance as the rest of the brides and brothers.
While Seven Brides for Seven Brothers was originally a movie, it has since been adapted for stage, and is one of the most entertaining and fun musicals out there. Sure, the premise – in which the eldest of seven brothers convinces a woman he's just met to marry him and return to his home in the mountains, fails to tell her about his six ill-mannered brothers, and then plants the idea in his brothers' heads to just waltz on down to the town and kidnap a bunch of women for them to marry – is… problematic, to say the least. However, with the right casting and staging, and perhaps a bit of updating, Seven Brides for Seven Brothers' catchy music and spectacular dance numbers will be sure to win audiences over.
Starring: Brian Stokes Mitchell as Don Quixote, Audra McDonald as Aldonza, James Corden as Sancho Panza
Based on Miguel de Cervantes' Don Quixote, Man of La Mancha tells the story of Alonso Quijano, who, as he enters his twilight years, believes himself to be a knight named Don Quixote de La Mancha. Accompanied by his faithful squire, Sancho Panza, Quijano goes out into the world to complete his quest, despite the world being decidedly less noble and fantastic than he imagines it to be. Brian Stokes Mitchell has already played Don Quixote on Broadway and brings appropriate levels of both vulnerability and gravitas to the role, while Audra McDonald is more than capable of giving Aldonza (a prostitute whom Quijano believes to be his lady fair) her fiery spirit and, later, her gentle and fiercely loyal heart. Man of La Mancha is one of the more somber offerings on this list, but its message of nobility, loyalty, hope, and imagination make it a wonderful show to adapt for a live audience.
Starring: Naya Rivera as Anita, Josefina Scaglione as Maria, Skylar Astin as Tony, Jeremy Jordan as Riff
Leornard Bernstein's ambitious musical retelling of Romeo and Juliet, featuring rival street gangs of different races instead of rival families, may not be as lighthearted as many of the picks on this list, but there's no denying its broad appeal. Since West Side Story requires most of its ensemble to be skilled ballet dancers, this one would have to draw more from Broadway than Hollywood, but this show has always been more about the music and the dancing than the casting. This emotional show may be decades old, but due to its commentary on prejudice, racism, friendship, violence, and love, there's no wonder it still resonates with audiences today.
Starring: Sara Ramirez as The Lady of the Lake, Hugh Jackman as King Arthur, Billy Magnussen as Sir Galahad, Matthew Morrison as Prince Herbert, Arthur Darvill as Sir Robin, Ewan McGregor as Sir Lancelot
A musical spin on Monty Python and the Holy Grail, Spamalot has all the irreverent British wit, blatant silliness, and physical comedy that characterize all the best Monty Python sketches. Spamalot has a pretty decent-sized ensemble cast, only a few of which have to be truly competent singers, and while the network wouldn't have to utilize the show's traditional double-casting, the closeness of TV could allow for some fun visual comedy as recognizable actors play a variety of roles. Between the nonstop humor, the ridiculous characters, and the colorful and energetic staging, Spamalot would be sure to keep audiences thoroughly entertained from beginning to end.
Starring: Lea Michele as Elphaba, Megan Hilty as Galinda, Aaron Tveit as Fiyero
Although there is (theoretically) a Wicked movie already in development, this show is so popular that it might as well get the TV treatment too. The story of the Wicked Witch of the West, who is assigned to be college roommates with the Good Witch of the North, Wicked is a funny, heart-wrenching, and delightfully unique re-imagining of the story of Oz. And while the movie is sure to be great, the writing and staging of this musical is so fantastic in its original form that it deserves to reach as wide an audience as possible.