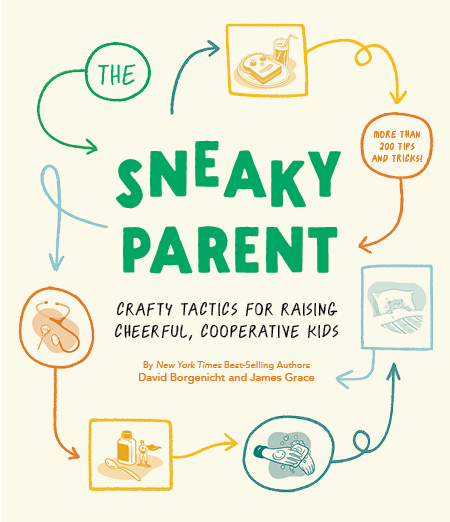 More than 200 clever tricks to help stubborn kids go to bed, clean their room, take a bath, and more—without tears or fights.
As a parent, you want nothing more than to keep your child fed, clothed, clean, healthy, and safe. Your kid, meanwhile, wants nothing more than to eat junk, go nude, stay up all night, and fall down a well. Begging doesn't work. Bribery isn't sustainable. You don't want to shout. But what are you supposed to do?
It's time to get sneaky.
The Sneaky Parent offers a full playbook of clever ploys for beating kids at their own game. With the strategies outlined in this book, you can gently guide kids towards positive choices—while letting them think they're the ones in control. Learn how to:
Boost oral hygiene by pretending a toothbrush is a paintbrush for teeth
Render long plane trips painless with a game of "name that cloud"
Calm separation anxiety by developing fun ways to wave goodbye
And dozens of other clever tactics, tricks, and games
With a little benevolent sneakiness, your child will enthusiastically try new foods, embrace bath time, go to sleep on a schedule, and other necessary but unpopular life skills. The best part? They'll be sure it was their idea.
Previously published as How to Con Your Kid (2012) this edition includes gender-neutral language, updated screen time advice, and more for today's parent.
Posted by Kim Ismael