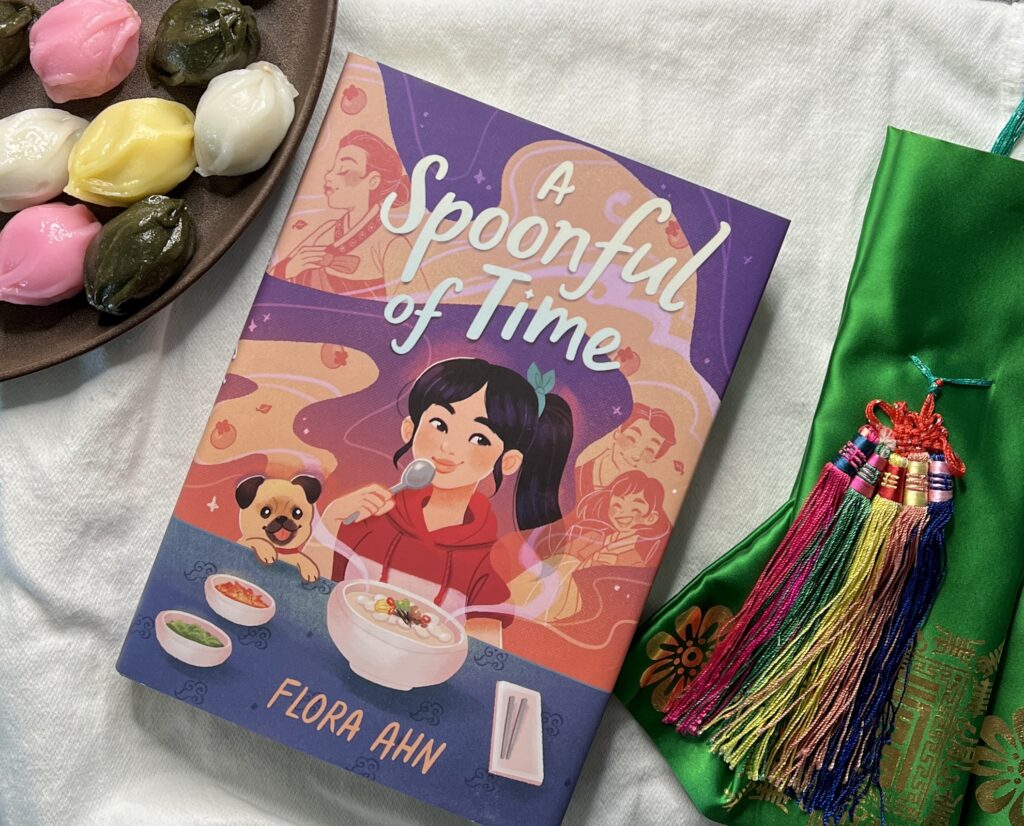 Happy Chuseok!
When the air begins to turn a bit crisp and some of the leaves start to change color, it means that Chuseok is just around the corner. In America we look forward to Thanksgiving as a time to return home and reconnect with family, but in Korea Chuseok is the big holiday to celebrate in the fall. Long before Christmas became a regular holiday in Korea, Chuseok was celebrated across towns each year as a harvest festival in the late summer or early fall depending on the lunar calendar. But Chuseok is more than just a gathering of family, it's also a time to pay respect to one's ancestors. Growing up in Seoul, my mom and her siblings would be treated to new clothes before they'd head out to clean and tidy up family graves where they'd bow and then picnic together.
As part of the Chuseok celebration, families gather together for feasts filled with a variety of traditional foods. In A Spoonful of Time, Maya and her grandmother made songpyeon, small rice cakes stuffed with different fillings like sesame seeds, honey, or red beans. But there are other traditional foods commonly eaten at Chuseok, like japchae. While japchae actually means "mixed vegetables," it's mostly known for its long and slippery glass noodles, which my mom said symbolize long life (which is what she says about a lot of traditional Korean dishes). Every holiday or special occasion, I'd wait for my mom to pull out a giant plastic tub and put on her gloves and soon the kitchen would be filled with the aroma of sesame oil. I'd linger in the kitchen stealing bites of stray vegetables or some noodles that my mom would hold out for me to slurp up. But the best part is when it would all come together at the end into a wonderful mixture of flavors and textures that my mom would pile onto a large platter and place on a table filled with different amazing dishes for my family to share.
There are so many different ways to make japchae and every family has their own take on the recipe. Here is a version I adapted from my mom's vague oral instructions, but you can tweak it in ways to make it your own.
Ingredients:
●      8 oz Korean glass/starch noodles (dangmyeon)
●      4-6 oz beef (sirloin)
●      5 dried shiitake mushrooms
●      1 bundle (½ lb) of spinach
●      3 scallion stalks
●      1 small onion
●      1 medium sized carrot
●      1 small red bell pepper
●      2 tsp salt
●      1 tsp black pepper
●      1 egg, fried and cut into thin strips
●      1 tbsp toasted sesame seeds
●      Vegetable oil for frying
Marinade:
●      4 tbsp soy sauce
●      3 tbsp sesame oil
●      1 tbsp sugar
●      ½ tsp black pepper
●      1 tsp minced garlic
Directions:
Slice the scallions, onion, carrot, and red bell pepper into thin strips, about 2" long.
Using vegetable oil, individually stir fry the vegetables with salt and pepper for about 1 minute each and then add to a large bowl or pot. This bowl is where all the magic will happen later and will henceforth be referred to as "the big bowl."
Soak the shiitake mushrooms in hot water until soft. Rinse and squeeze out any excess water. Slice into thin strips.
Make marinade in a small bowl by mixing well 4 tbsp soy sauce, 3 tbsp sesame oil, 1 tbsp sugar, ½ tsp black pepper, and 1 tsp garlic.
Thinly slice beef into strips about 2" long and marinate the beef and mushrooms with ½ of the marinade.
Bring a large pot of water to a boil. Add the spinach and blanch for 30 seconds to 1 minute. Rinse in cold water and gently squeeze out any excess water. Cut a few times into smaller pieces and add to the big bowl.
Stir fry the beef. When the beef is almost done, add the shiitake mushrooms and stir fry for 1-2 minutes longer. Remove from heat, and place the beef and mushrooms into the big bowl.
Cook the noodles in boiling water for about 7 minutes until the noodles are transparent. Stir them occasionally so that they don't stick together. Drain and rinse in cold water. Cut the noodles with kitchen shears a few times and then add to the big bowl.
Mix everything together and season with remaining marinade according to taste. If you're my mom you put on gloves and mix it by hand.
You can then plate the japchae and garnish with thin strips of fried egg and toasted sesame seeds.
Notes:
Leftover japchae should be kept refrigerated. Reheat in a pan or eat cold straight from the fridge if you're lazy like me. To make japchae vegetarian just omit the beef.
As you cook and eat japchae, I hope that you enjoy it with loved ones as Korean food is great to eat in a shared setting much like how Maya and her grandmother enjoyed the food they cooked together in A Spoonful of Time!
Posted by Flora Ahn
Looking for great middle grade book recs for Asian American and Pacific Islander Heritage Month and beyond? We caught up with A Spoonful of Time author Flora Ahn and talked favorite foods, writing, family, and Flora's middle grade book recs by AAPI authors, so you'll have some great reads to add to your list. Grab your favorite snack and enjoy the Q&A!
Posted by Quirk Books Staff
Do you have a middle-grade reader in your life who loves all things spooky? They'll love Hanging with Vampires: A Totally Factual Field Guide to the Supernatural written by Insha Fitzpatrick and illustrated by Lilla Bölecz, on sale March 28, 2023! Read on for a resource roundup to get the most out of your reading experience.
Posted by Quirk Books Staff